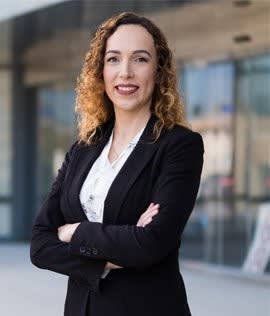 With nearly 20 years in practice, Ana Clara Alves Vogler is an experienced international lawyer who is licensed to practice law in California and Brazil. She is an active member of the State Bar of California and the Brazil Bar, Ordem dos Advogados do Brasil – RS (OAB), and practices international family law, tax law, business law, contracts law, and immigration law related to family. She also works with Brazilians in estate planning, premarital agreements, and business organization.
Ana Clara admitted to practice law in all California state courts, the United States Federal District Court for the Central District of California, and all state and federal courts of Brazil. She has significant Brazil tax and business law appellate experience and has argued cases before the Supreme Court of Brazil.
Ana Clara attended law school in Brazil at Pontifícia Universidade Católica do Rio Grande do Sul (PUCRS), Porto Alegre, Brazil, where she earned a Bachelor Degree of Law in 2000, and Master Degree of Law, Constitution Rights in 2013. She also holds three post-graduate degrees in Brazil Tax Law, Tax Procedure, and Business Law.
She is a published legal writer in Brazil Tax Law, a member of the Brazil Institute of Tax Studies (IET), and is former Staff Attorney for Brazil Federal Deputy (Congressman) Nelson Marchezan, Jr.
Ana Clara speaks fluently in English, Portuguese, Italian, and Spanish.